Our Trainer - Tony Gollan
Originally from Toowoomba, Tony relocated his Darling Downs stable to Eagle Farm in 2012 and industry insiders are in no doubt of his advanced training capabilities and potential.
Rugby League football played an important role in Tony Gollan's life but the love of racehorses and all things racing was always close. When Tony completed his schooling at St Mary's College in Toowoomba where two of his fellow students were the late Stathi Katsidis and now Racing Queensland Limited chairman of stewards Wade Birch, he contemplated a full time pursuit of football.
Tony was a Queensland Under 19 representative. But he also had close ties to the stable run by his father Darryl while he was growing up and he had been a keen follower of form to give his penchant for a punt some hope of success. He and footy mates would often go to Clifford Park races after a match. Despite some words of warning from his dad, Tony took out a trainer's licence when he was twenty. He had a team of four horses and the confidence of youth. But reality soon bit. "I thought the first horse I saddled was a certainty in a race at Wandoan and bet accordingly. The horse ran off the track at the home turn and was beaten. I was crushed and soon realised the training caper was a lot tougher than I'd first thought,'' Tony recalled.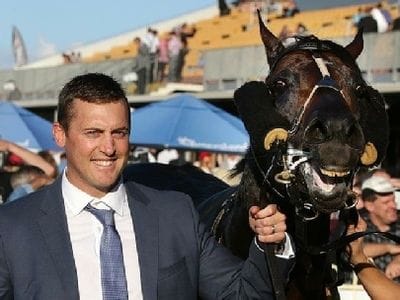 His first winner was Carbon Shadow at Clifford Park. Katsidis, by then a close mate as well as doing a lot of riding for Tony, was the jockey when the young Toowoomba trainer secured his first metropolitan winner with Nova Serrure. At that time Tony, aged twenty two, let his natural ambitious instincts rule his head. He set up a stable in Brisbane. He enjoyed some early success and soon had a stable of fourteen horses. But he was advised that his visitor's permit had elapsed and he could no longer train at Eagle Farm. Tony made the decision to set up base on the Gold Coast. After six months, a chastened Tony realised he was in a downward spiral. He headed back to Toowoomba and renewed his close ties to Darryl. He spent the next year soaking up as much knowledge as he could from Darryl and also observed closely the way legendary trainer Jim Atkins prepared his team and how he ran his stable. It was an invaluable learning curve.
Tony revived his own training business in 2003. A stroke of good fortune gave his return some early momentum. Eureka Stud father-son combination Colin and Scott McAlpine gave him a Special Dane filly which they named Temple Spirit. The filly was a great success on the track, winning eight races. The association with Temple Spirit has continued with Gollan Racing enjoying tremendous success with the mare's foal Spirit Of Boom and Temple Of Boom. The latter lifted Tony's profile on to the big stage when he won a Listed Race at Flemington on Oaks day in 2010. It also whet his appetite for the major carnivals. "It was an incredible buzz just to have a runner at Flemington in Cup week. It's addictive. I want to get myself to a stage where I can travel to those big carnivals regularly,'' he said.
Tony is Brisbane's most exciting racehorse training talent and winner of the 2013-14 Brisbane Metropolitan Trainers Premiership. He's achieved more than 400 wins in his emerging career including stakes wins with stable stars Temple of Boom (Group 1 winner with over $1.7M prize money), Spirit of Boom (Dual Group 1 winner with over $2.4M prize money) and Listen Son (more than $500K prize money). Tony brings the knowledge of generations to his training practises. He learned from his father, thoroughbred trainer Darryl Gollan, and was mentored by the late JJ Atkins (Australian Racing Hall of Fame trainer).
---
Testimonials
"Tony to be 'the next big thing in Queensland racing"
[Radio TAB thoroughbred caller David Fowler]
"Rarely have I been so confident about a young trainer rising through the ranks to stake a claim as a leader in his chosen career"
[Veteran racing journalist Bart Sinclair]