The Everest Champion, Redzel the Favourite in Darley Classic!
Written on the 10 November 2017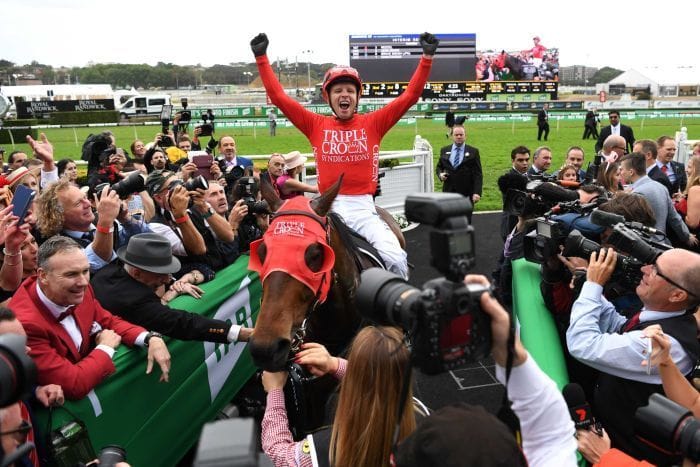 All eyes will be on the favourite, Redzel (the first Everest champion) as he goes up against 13 other sprinters at the $1m Group 1 Darley Classic on Saturday at Flemington.
Redzel has shown great tenacity, winning his last 5 starts including the Doomben 10,000 and The Everest no matter which track or condition of the track.
Redzel's rivals from The Everest: Vega Magic, Chautauqua, Redkirk Warrior and Clearly Innocent are all lining up for another showdown with the Peter & Paul Snowden-trained 5YO gelding. Redzel will also go up against In Her Time who is the Sydney Stakes winner and runner up to Hey Doc at the Manikato Stakes, Impending, the Stradbroke Handicap winner and runner up at the Sydney Stakes and Group 1 winner Malaguerra who hasn't lost a beat at Flemington.
The Snowden team don't seem to be deterred by the other champion sprinters, immediately entering Redzel in the Darley Classic after The Everest.
"We run our own show," Paul said. "That's the best part about this horse.
"It's a unique situation to have a sprinter with these capabilities. He can run on wet or dry, barriers are not an issue and nothing affects his racing pattern. That's why he's been so consistent over the last 18 months."
"I don't know if he has to be better (to win the Darley Classic), but if he turns up in the same frame of mind (he will be hard to beat). He's an easy-going horse and you've just got to keep him happy.
"Fitness-wise he's in extremely good order. You've only got to have a look at him in the skin, his coat is glowing. Everything about him suggests he's going well.
"We had a sneaky little canter down there the other week just to refresh him. He's a good straight horse and hopefully that's enough. He just turns up and gets the job done and hopefully he does that on Saturday."
Once again Kerrin McEvoy will take the reins of Redzel and later partner with the favourite, Folkswood in the Emirates Stakes. Redzel has drifted from $3.80 on Thursday with Sportsbet to $4.20. Vega Magic is currently at $5, Chautauqua ($6.50), In Her Time ($7.50), Impending ($8.50) and Redkirk Warrior and Malaguerra in double figures at $10 and $14 respectively.
(Photo: Kerrin McEvoy and Redzel after his victory at The Everest, Photo source: ABC News)