Shares Now Available!!
Better Than Ready X Exciting Doll Filly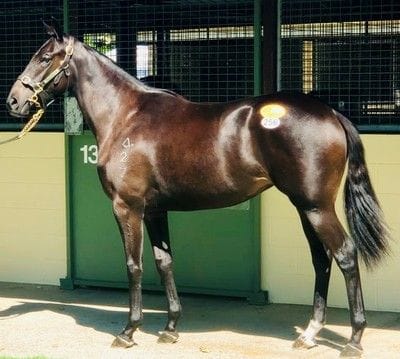 Reserve Your Share Now!!
Check out the video below of Tony Gollan talking about this stunning Filly !!!
Team Thoroughbreds, along with bloodstock agent John Foote and Tony Gollan, have made their next exciting purchase: a Better Than Ready x Ultimo filly. She was purchased earlier this year from Yarramalong Park Stud's draught of yearlings - at the Inglis Melbourne Premier Yearling Sales. No doubt you are aware BETTER THAN READY is the hottest first season sire in QLD, already producing 15 winners, and 2 stakes winners. It is going to be competitive buying of his stock at the upcoming QTIS sales so we were thrilled to have purchased the ULTIMO filly for only 70k.
Tony, John and Terry all loved her! She is beautiful, but powerful looking. She has a big hindquarter and strong shoulder, and has a real presence of the dam's sire EXCEED AND EXCELL in her.

She was very well bought and a perfect horse to race for the lucrative QTIS BONUS riches in QLD. A QTIS filly winning a Saturday Metropolitan QTIS bonus race takes home almost $80K for her connections. This early running type is also eligible for the QTIS Jewel which has a half a million-dollar 2yo race.

Tony will target her for the Inglis Millennium 2yo race worth $2 Million dollars.

The Inglis Millennium is a Restricted Listed race held at Warwick Farm Racecourse each year over 1200m and is part of a new-look Inglis Race Series to be worth a total of $8 million.
The race is fully restricted to horses that have been purchased through an Inglis sale ring and boasts a total prize pool of $2,000,000 making it the second richest juvenile race behind the $3.5 million Golden Slipper.
The 2020 Inglis Millennium will be run on Saturday the 8th of February, 2020 at Warwick Farm Racecourse.
The Inglis Millennium attracts horses purchased through an Inglis sale ring should the owners pay for the race series upon purchase.
She will nominated for the Golden Slipper
She will be trained by Queensland's leading trainer, Tony Gollan, out of his Eagle Farm stable, and Team Thoroughbreds are excited to release this lovely filly to the public.
With half already sold of this wonderful type - we expect her to sell very quickly.

Phone Terry on 0439 824 440 or email terry@teamthoroughbreds.com.au or follow the link below
To register your interest in this exciting filly, please follow the below link and fill out your details

About The Sire
Better Than Ready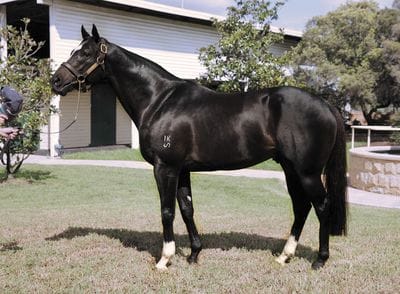 Click Below for Better Than Ready's Full Pedigree
http://www.stallions.com.au/horses/pedigree.php?arion_id=IjEwMzg0MDg1NCI=
Standing at Lyndhurst Stud, the ten year old stallion's race record stands at 8 wins from 16 starts securing almost half a million dollars prize money. As mentioned above, BETTER THAN READY is the hottest first season sire in QLD, already producing 15 winners, and 2 stakes winners.
Click Below For Full Progeny Results
http://www.stallions.com.au/horses/results_progeny.php?arion_id=IjEwMzg0MDg1NCI=
Please find the full PDS included below
TEAM THOROUGHBREDS EXCITED WITH THIS DOLL
By an exciting young sire out of a proven family
We sought assistance from renown bloodstock agent John Foote when looking to secure our first offering for 2019. This filly is by freshman sire Better Than Ready (by More Than Ready) and the young horse doing a great job sitting in second place on Australia's Leading First Crop Sires of Season 2018-19 list with 16 individual winners and three stakes winners to the horse's credit. Counting The Odyssey (2018 BRC Phelan Ready Stakes); Better Reflection (2018 BRC Calaway Gal Stakes) and Jagged Edge (2019 BRC Dalrello Stakes) as of late April.
This first book of runners is off a reasonable service fee of $9,900.00 (inc. GST) and has provided value for breeders and owners of the horses progeny. The stud manager is looking to kick the four-time Listed winner off to a great start in his new career as another Queensland counterpart Spirit of Boom (by Sequalo) did when taking last seasons' Leading First-crop sire by winners (18) in Australia.
That fee for Better Than Ready has seen breeders in the state send upwards of more than 130 mares in each of the horses covering seasons, with the book doubling last spring. Those numbers ensure the Better Than Ready has a few more two-year-old winners before seasons end.
This filly is out of Exciting Doll in-turn out of the stakes placed Nassi Doll a winner of six-races and more than $114,000 in earnings. A winner of four races Exciting Doll won over distances that ranged from 1100 m. to 1650 m. and placed another nine times from a 21-race career before connections sent her off to stud in 2015.
Nassi Doll is the dam of eight foals, seven are winners including the stakes placed Teronado (by Testa Rossa) and a winner of four races & Don Vito (by Reenact) six wins. Better Than Ready was trained in Queensland won eight races was placed three-times earning more than $400,000 for his connections. Winning the Listed ATC Brian Cowley Stakes (1200 m.) in the spring of 2012 at the bay/brown's sixth career start the horse went on to win the BRC Falvelon Stakes (1200 m.) and Mick Dittman Plate (1000 m.) in the autumn of 2013 then the Keith Noud Stakes (1200 m.) the following spring. Better Than Ready's career spanned 16-starts the horse finished third in the Group 1 BRC BTC Cup (1200 m.) and fourth in the Group 2 MRC Rubiton Stakes behind champion sprinter Lankan Rupee at the horses last start in 2014 at Caulfield.
Once the Horse Racing Syndicate has been formed the new partnership will be managed by Team Thoroughbreds.
Horse Details
Sire: Better Than Ready
Dam: Exciting Doll
Sex: Filly
Foal Date: 28 August 2017
Trainer Details
Tony Gollan cemented his place in Queensland racing history at the conclusion of the 2014-15 racing season when he broke Bruce McLachlan's long-standing record of 78 metropolitan wins.
In celebrating that milestone, Gollan acknowledged the journey he had travelled since reviving his training career in 2003. His second premiership followed a break-through season and ably assisted by the Group One-winning half-brothers Spirit of Boom (by Sequalo) and Temple of Boom (by Piccolo) however it would be unfair to say Gollan's march toward the top of his profession was solely down to the "Boom Brothers".
All up, Gollan trained 95 winners Australia wide during the 2014-15 racing season earning connections more than $4million. With a third trainers' title firmly in the rear-vision mirror Gollan is now looking to build on the 100-plus winners Australia wide mark that landed him in tenth spot on the Australian Trainers' Premiership list at the end of the 2015-16 season with Gollan recording a top five finish training 88.5 metropolitan winners.
Tony Gollan is well placed on the Queensland premiership rankings this season, heading the metropolitan premiership with 67 individual winners that have earned connections more than $4million in prize money.
Gollan has begun the 2018-19 racing season in the same manner he finished the last chalking up 107 winners and to the stables credit the season has another four months to run.
Spirit of Boom is clearly the most successful galloper Gollan has trained providing him with successes in the 2014 Group 1 MVRC William Reid Stakes and the BRC Doomben 10,000. While Temple of Boom, owned by the same connections, and the oldest of the pair had won the 2012 ATC Galaxy at Randwick after wins at Group 2, Group 3 and Listed level.
While both Booms brothers enhanced Gollan's reputation, the effort to take Amexed from a maiden win at the Sunshine Coast over 1600 m. to success in the Group 3 BRC Rough Habit Plate (2000 m.) equally focused a bright light on his skill.
As a teenager Gollan was a star Rugby League player in Toowoomba, earning selection in the Queensland U-19 squad and winning a scholarship to play in Sydney. But with a professional football career beckoning he chose horse racing, with his first winner Carbon Shadow at Clifford Park in 1999, and it's a tribute to his dedication and persistence that followed some 13-years after he had taken the plunge and moved to Brisbane in 2012 to saddle up his first Group-1 winner.
Gollan has once again has approached the new season with that same attitude to keep building on those past results to ensure his rise to the top isn't a short stay and remains focused to collect a sixth premiership trophy at seasons end.
Syndication Details
Number of Shares: 50
Number of Shares for Sale: 50
Price Per 2% Share: $1,061.00 (inc. GST)
Price Per 5% Share: $2,652.50 (inc. GST)
Price Per 10% Share: $5,305.00 (inc. GST)
The share price is inclusive of the breaking-in fee with Jake Capewell along with early education Capewell and Gollan Racing. Team Thoroughbreds bought the filly as a joint venture with Gollan Racing, and have included all transport, agistment costs to ensure cost are paid until October 1st, 2019. Team Thoroughbreds have paid the 2020 Magic Millions race series fee and will pay all of Racing Australia's Horse Registration costs. The black / brown filly is insured with HQ Insurance until April 4th, 2020 and Team Thoroughbreds will invoice each member of the Horse Racing Syndicate, pro-rata to share-holding, a set monthly fee with the cost to maintain a two percent (2%) share $74.00 (Inc. GST) per month that's less than $20 a week.
If you would like a copy of the approved Product Disclosure Statement (PDS) please contact the TTSC (AFSL 288-213) or Team Thoroughbreds (AR: 001 272 774).

Phone Terry on 0439 824 440 or email terry@teamthoroughbreds.com.au
Team Thoroughbreds is a team effort, where only the best are a part of our team, ensuring its success and the success of the horses.

Our trainer: Tony Gollan is Queensland's leading trainer, winning the Brisbane Metropolitan Trainers Premiership 3 years running.

Our bloodstock agent: John Foote Bloodstock is one of the leading bloodstock agencies in Australia, advising clients in all aspects of buying, breeding and racing thoroughbreds.

And of course you can't go wrong with the experienced and friendly staff at Team Thoroughbreds.

For enquiries on our latest horses for syndication, please 'Send an Enquiry' >>>
$10 million dollar Magic Million race series

$13 million dollars in QTIS bonuses

$3.5 million Golden Slipper and $1 million Golden Rose Race 1st & 2nd nomination